The policy of our design is creating the value of "Kansei"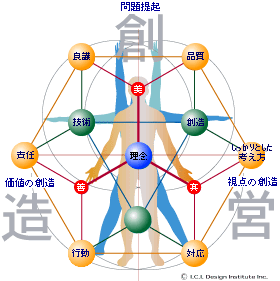 We think design is not only to create beauty forms, but also to create impressions.
People are not satisfied to get product that has no impressions.
That is to say, their actual needs are impressions. The value of products depends on the quantity of the impression.
People will feel an expensive product to be inexpensive if it provides many impressions.
On the other hand, they will feel cheap goods to be outrageous if it has no impression.
So, it is important for creating products to create the value of impression.
To create the process of front-loading.
Construction of the front-loading system makes the value of impression worthy.
That is to say, you should make decision of the purpose and discover the problem in the early time. As we support the all process from design to structural plan and manufacture,you can save the time until the product will go on sale.
For the valuable products.
We have a lot of expert knowledge and experiences such as materials, structures, modeling, the environment. And we promote the environment-friendly production for Society with an environment-friendly material cycle.
Quick responses for success.
The key of success is "quick responses".
We will quickly discover the point of your project, and propose new ideas and systems based on large cases. If you need, we will also present the ideas for top of your About us, or participate in your project meeting. So we will totally support your project from planning to promotion campaign.
Small numbers‐exceptional talent
Our company is a small but elect design team. As the design work are creative, we consider that small numbers and Especially in the productions by digital tools, the point is how to improve productivity. We regard large experiments and knowledge as important.